Private Kindergarten Program
Be Creative and Prepared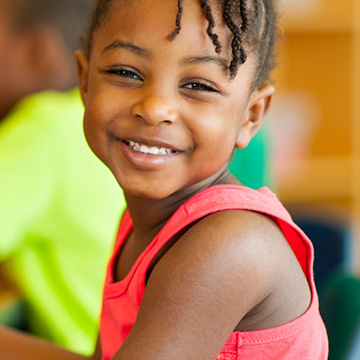 Are things up in the air in your school district? Is your child scheduled to start kindergarten in the fall? Do you feel they're not prepared? Perhaps their Pre-K experience was abbreviated?
Let us be there for your child this fall. With our Private Kindergarten program, we offer five days a week of in-school learning, based on nationally recognized kindergarten curricula. With a small class size, there's a big opportunity for your child to get prepared for the first grade, with a focus on essential skills, such as:
Independent reading
Writing to communicate ideas
Number knowledge, operations, measuring, and geometry
Using the scientific method to study the world
In six distinct areas, children learn, grow, and develop through significant individual attention
Science & Math Center: Children employ their natural investigative skills to experiment with new science and math concepts. Through this discovery process, children build critical thinking skills.
Fine Arts Center: By engaging with different art techniques and color concepts, children can explore their creative side and develop problem-solving and self-expression skills.
Dramatic Play Center: Through dramatic and pretend play, children try on different costumes and roles to develop social-emotional skills and make sense of their world.
Block Center: By using various materials to build original creations, children learn how things work and how they fit together.
Writing & Language Center: Letter and word recognition and formation, along with segmenting words into sounds, and putting new sounds together to make words allow children to succeed at written communication.
Library Center: In this cozy area full of books, children can develop key literacy skills like story reasoning, print awareness, and word recognition.
Comprehensive Curriculum and Knowledge Areas
In Private Kindergarten, your child joins a small group of learners, led by a degreed teacher. We offer nationally recognized, research-based curricula that provides a solid foundation for your child to prepare for first grade. Students have the opportunity for independent learning, as well as teacher-planned lessons. Throughout the year, we measure their development across five important knowledge areas, to be sure they are prepared for first grade.
Language & Literacy: Letter recognition, phonemic awareness, and literacy comprehension are some of the literacy concepts discovered through both small and large group instruction, and independently at learning centers. Children learn about story concepts; about how words are built; how to develop their writing; about how print works; how to express their ideas; and how to build their vocabulary.
Math: Children receive math instruction in this classroom through five different methods: whole group instruction; collaborative learning; small group instruction; adaptive learning; and independent practice. Math concepts are represented by real-life situations, enabling children to see math in a practical way, and to develop their critical thinking and problem-solving skills.
Social Studies: It's important to understand the world around you. So we engage children with lessons about the concepts of time and place, and how to be respectful of other people. Many lessons are explored by looking at personal experiences, family stories, and traditions.
Science: We explore the scientific method, as well as observing local weather patterns, describing patterns over time, and discovering plants, animals, and the environment.
Self-Help & Social Skills: There are many important skills that children need to develop to be ready for elementary school, and they include learning how to hold a pencil with a proper grip; using scissors to cut pre-formed shapes; following directions; working independently; recognizing and following classroom routines and procedures; understanding someone else's point of view; showing conflict resolution skills; and respecting the rights of all others.