Private Kindergarten Program
Creative and Prepared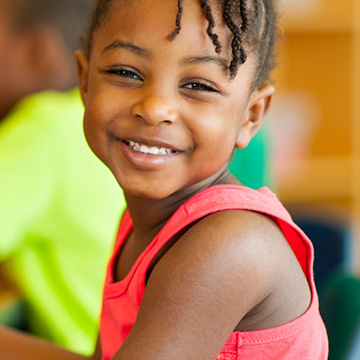 This program is the culminating step of the School Readiness Pathway. This is the start of an academic future filled with success. This program focuses on essential academic skills, like:
Independent reading
Writing to communicate ideas
Understanding place value – 1's, 10's, 100's
Using the scientific method to study the world
In six distinct areas, children learn, grow, and develop through significant individual attention.
Science & Math Center: Children employ their natural investigative skills to experiment with new science and math concepts. Through this discovery process, children build critical-thinking skills.
Fine Arts Center: By engaging with different art techniques and color concepts, children can explore their creative side and develop problem-solving and self-expression skills.
Dramatic Play Center: Through dramatic and pretend play, children try on different costumes and roles to develop social-emotional skills and make sense of their world.
Block Center: By using various materials to build original creations, children learn how things work and how they fit together.
Writing & Language Center: Letter and word recognition and formation, along with segmenting words into sounds, and putting new sounds together to make words allow children to succeed at written communication.
Library Center: In this cozy area full of books, children can develop key literacy skills like story reasoning, print awareness, and work recognition.
These are the nationally recognized, award-winning, research-based educational curricula for children that are featured in this Private Kindergarten program:
Houghton Mifflin Harcourt Journeys: Designed for English language learners, in addition to new, on-level, and advanced readers, this language arts program uses integrated learning to increase student success in the world of literacy.
My Math: Children gain confidence in their math skills, while being challenged and encouraged by real-world applications of math ideas. Research-based math approaches help children develop their conceptual understanding, procedural skill, and math fluency, so they become expert problem-solvers.
Handwriting Without Tears®: Originally created by occupational therapists, this program demonstrates correct letter formation to develop handwriting skills. Through this program, we see progress in letter size, spacing, and general legibility, as handwriting becomes a simple, automatic skill.
In this classroom, children's development is tracked across five key benchmarks:
Language Arts: Children learn both how to ask as well as answer questions, and identify important details in narratives and informational texts, under the guidance of a teacher.
Math: Children develop the ability to count, by 1's, up to 100.
Social Studies: This benchmark explores the sharing of family stories and traditions that are personal to the children.
Science: Children learn to compare and contrast through investigations into early scientific concepts.
Self-Help & Social Skills: Children expand their ability to follow step-by-step directions independently.