Creating Positive Behavior Support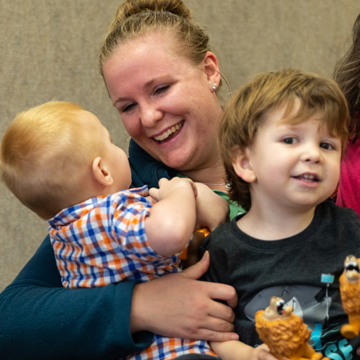 Sometimes, children exhibit challenging behavior. This may appear as defiance, aggressive behavior, or even using hurtful words. Without the social, emotional, language, and cognitive skills to behave in more positive ways, children may resort to challenging behaviors. We recognize the close connection between challenging and positive behavior.
At Creative Kids, we turn moments of challenging behavior into learning opportunities for children. By responding to challenging behavior in productive ways, children can learn positive behavior skills. And through a developmentally appropriate classroom environment and daily routine, we can prevent challenging behaviors.

This is Positive Behavior Support. Through tools like myPath, our proprietary app for positive behavior strategies, teachers can foster a positive learning environment that curbs challenging behaviors.


myPath is a Great Classroom Resource
myPath has many age-appropriate tips that teachers can employ to assist children as they develop positive behavior through social, emotional, language, and cognitive growth.
Through current and trusted research, we ensure that all our developmental strategies are effective and well vetted.
myPath gives teachers strategies that target a child's specific needs and behaviors.
myPath ensures teachers have innovative methods for encouraging and empowering positive behaviors daily.