Early Preschool Program
Preparing for Preschool and Beyond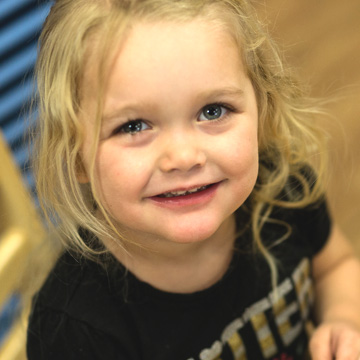 On the path to Preschool, Early Preschool is an excellent stepping stone that is built to meet the needs of 30- to 42-month old children. As they become independent learners, these children practice working with others, following directions, self-regulation, following routines, and developing self-help skills. This program offers:
Exclusive indicator-based curriculum
Opportunities to build independence
Collaborative learning experiences
In this collaborative classroom environment that fosters independence, children learn to work with classmates and follow instructions. Through nurtured independence, children build upon their self-help and self-regulation skills.
Music & Movement Center: Positive movement is encouraged as this energetic group develops gross motor skills, coordination, and spatial awareness.
Math & Science Center: In this classroom, children are empowered to investigate and explore using a variety of materials for counting, sorting, classifying, and measuring activities.
Art Center: Children explore self-expression and their imagination by way of sensory exploration and creative art experiences.
Pretend Center: It's make-believe time. Children collaborate to use their imaginations, dress up, and play different roles to expand their creativity.
Language: This cozy, quiet classroom area gives children an inviting place for reading, playing with puppets, and exploring early writing.
Block Center: With a variety of materials on hand for construction and creating inventions, children learn how things fit and work together.
This group of 30- to 42-month-old children prepares for Preschool with our indicator-based curriculum, Learn as We Grow™. We guide them toward significant achievement across 10 developmental scales.
Approaches to Learning: Learning problem-solving, world exploration, and greater independence.
Creative Arts: Learning to express feelings and ideas through music, movement, and visual arts.
Language: Effective communication is developed through explorations of conversation skills and vocabulary.
Literacy: Learning early reading and writing alongside phonological awareness and alphabet knowledge.
Logic & Reasoning: Learning to solve problems, sequence, and think critically.
Early Math: Learning about numbers, sorting, ordering and patterns; learning addition, subtraction, measuring, and graphing.
Nature & Science: Learning to interact with and process the natural and physical world to observe, describe, predict, and gather data.
Social Studies: Learning about their world by developing an understanding of themselves, their families, and their communities.
Physical Development/Health: Learning to control and coordinate large and small muscle movements; developing an awareness of health and safety concepts.
Social-Emotional Development: Learning to interact with others while building self-awareness and emotional awareness; learning to understand relationships with family, friends, and the community.