Military Family Assistance
Creative Family Care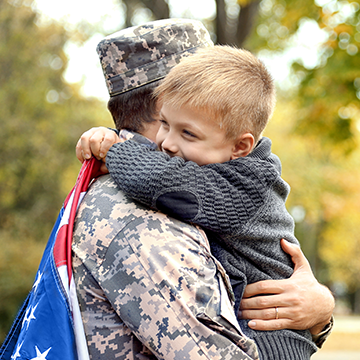 Respecting and honoring our heroes is something we take pride in. Part of that is helping your little heroes-in-training. At our schools, we proudly welcome military families receiving assistance from Child Care Aware® of America and the USDA Child Care Subsidy. All our military families can rest assured that their children are receiving excellent child care and creative learning in a nurturing environment.
For active duty military families, we offer a 10% tuition discount.*
Create a Window to Your Child's Day
Deployment can be a challenge for military families. As part of our commitment to honor our heroes, we're proud to offer live streaming video to view your child's classroom. Even if you're across the world, you'll feel like you're right there beside them. Watch them learn, grow, play, and smile. It's just one more way that we salute your service.
Encrypted and tightly controlled
Every account authorized individually
Intuitive and easy to use
Find a school near you today.
*Offer provides a 10% discount off of rack rate tuition for children ages 2-12 years, for new enrollees; valid on a space-available basis. Proof of active military service required to receive corporate discount. Discount offers cannot be used in conjunction with any other coupon, discount offer, or tuition subsidy, and is not redeemable or refundable for cash.