Our Teachers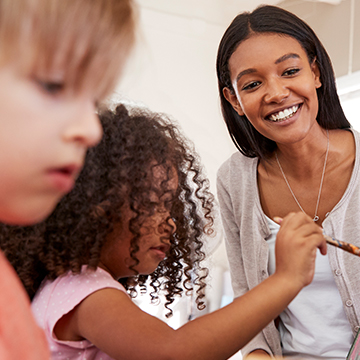 Teachers are the building blocks of a strong educational foundation. That's why at Creative Kids, our teachers are all well-trained, highly motivated, and very responsive professionals.
Selecting the most qualified teachers and care staff begins with an individualized assessment—a validated pre-hiring technique that uniquely finds high-quality candidates. As far as we know, no competitors use any similar tools.
We follow through with references and conduct comprehensive background checks based on the state and/or local licensing requirements. This includes verification of education credentials, criminal background checks, and fingerprinting. For candidates who may provide transportation for children, we do a thorough driving history check, followed by annual checks.
Our thorough process is in place to protect the most valuable element at our school: your child.
Upon being hired, teachers undergo comprehensive training that gives insight on different approaches to child care and child development, in addition to specific training in our standards, positive strategies for discipline, and curriculum. At this stage, they're immersed in the HighScope approach and ways to utilize it to promote classroom learning. Beyond this, there's always ongoing training to guarantee our teachers are current on all educational standards.
Intentional Planning, Customized Curriculum
Here, we use the Cycle of Intentional Planning. This is designed to observe and assess children in a way that will produce customized lesson plans that are specific to the children in a particular classroom.
Meet the needs and engage the interests of all the children.
Target emerging skills (or what children are now ready to learn).
Customize their lessons plans to be unique to each child.
Ensure school readiness for each child.
Plus, in each classroom, teachers work with a shared set of research-based developmental milestones (from birth to age 6), to ensure continual progress for the children.
The Importance of Assessments
Accurate assessment is the strong foundation of a quality early childhood curriculum. When teachers observe children as they work and play, it allows them to truly understand a child's capabilities. Observations like this allow for a true understanding of where a child stands on their development path, thereby giving teachers a way to create lesson plans that meet a child's needs exactly.
Of course, along the way, teachers get to know children in other ways—their personalities, individual interests, etc.—because they focus on everything a child is doing.
Through consistent observation, coupled with accurate assessments, teachers can provide lesson plans that are developmentally fitting. In this environment, children are constantly growing and progressing in their development.