Junior Kindergarten Program
A Program for Young 5-Year-Olds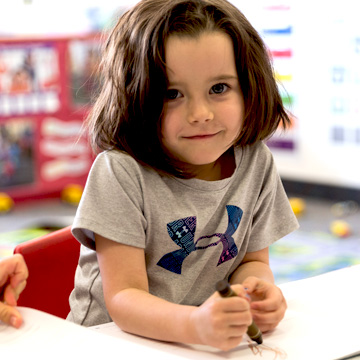 Junior Kindergarten gives your little one the chance to explore what kindergarten will be like. As they achieve important elementary school skills, they grow accustomed to the structure of a kindergarten school day. Through our award-winning, nationally recognized curricula, reading, writing, and math are taught at a kindergarten level. This program focuses on:
Following multi-step instructions
Finding multiple solutions to problems
Organization
Controlling impulses and sustaining attention
This learning environment, modeled after a kindergarten classroom, features six distinct centers for focused skill development.
Science & Math Center: Children employ their natural investigative skills to experiment with new science and math concepts. Through this discovery process, children build critical-thinking skills.
Fine Arts Center: By engaging with different art techniques and color concepts, children can explore their creative side and different problem-solving and self-expression skills.
Dramatic Play Center: Through dramatic and pretend play, children try on different costumes and roles to develop social-emotional skills and make sense of their world.
Block Center: By using various materials to build inventive creations, children learn how things work and how they fit together.
Writing & Language Center: Letter and word recognition and formation, along with segmenting words into sounds, and putting new sounds together to make words, allow children to succeed at written communication.
Library Center: In this cozy area full of books, children can develop key literacy skills like story reasoning, print awareness, and work recognition.
In this classroom, children work to develop kindergarten-level skills, without the expectation of mastery. Their progress is tracked across seven developmental scales:
Language & Literacy: Children's ability to identify and name letters in the alphabet, upper- and lowercase, assembling sounds in order to read and write short words, early reading, writing, vocabulary, and communication.
Math: The ability to comprehend numbers, patterns, sorting and ordering, and geometry, in addition to children's ability to use these numbers to add, subtract, measure, and graph.
Nature and Science: The ability to comprehend the natural and physical world, in addition to the ability to observe, predict, describe, and gather data.
Social Studies: The ability to understand one's self, family, community, and the world around them.
Physical and Developmental Health: Children's ability to employ fine and gross motor skills to navigate their surrounding environment, as well as the ability to understand basic health and nutrition concepts.
Creative Arts: The ability to express ideas and feelings through music, visual arts, drama, and music.
Critical Learning Skills: Self-regulation abilities, along with the ability to follow routines, sustain attention, take different perspectives, follow complex directions, and communicate effectively.