Preschool Program in Las Vegas
The Journey to Kindergarten Readiness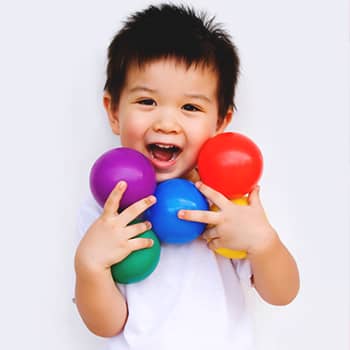 These are critical years for your little learner. Preschool is an essential part of the path to elementary school. Alongside their peers, children develop needed skills through fun, interactive learning experiences. This program focuses on:
Encouraging independence
Cooperating and communicating
Hands-on learning
Creative Classroom Environment
Children have the opportunity to develop skills across a variety of disciplines in our eight dynamic learning centers.
Music & Movement Center: As they cooperate and communicate with others, children build physical coordination skills through movement, dance, and song.
Math Center: Early math concepts like number organization, counting and comparing, sorting, and ordering give children a chance to explore new ideas.
Art Center: In this creative setting, children explore new art techniques, concepts of color, and cooperating with classmates.
Dramatic Play Center: Children learn to express their emotions and make sense of the world around them through imaginative play that will enhance their early writing and reading skills.
Block Center: Working with different materials helps children develop hand-eye coordination while they learn to sort, count, and pattern items.
Science Center: Through the exploration of plants, animals, weather, seasons, and other science areas, children are enabled to build observational and questioning skills.
Writing Center: Early writing skills, in addition to essential communication, are developed through the exploration of rhymes and sounds, letter recognition and formation.
Reading Center: Children build literacy skills in this center while they achieve milestones such as print awareness, story comprehension, and listening.
Customized Curriculum
Our curriculum relies on the foundational principle of active learning. Students have direct hands-on experiences with new ideas, materials and people. Our digital lesson planning tool builds customized curriculum, based on teachers' observation and assessment of children, so that they can achieve milestones across 10 developmental scales.
Approaches to Learning: Measure children's ability to set goals, make plans, interact with others, and interact with the environment.
Creative Arts: Measure the ability to express ideas and feelings through music, movement, visual arts, and drama.
Language: Measuring expressive vocabulary, receptive vocabulary, and using their vocabulary and conversation skills for effective communication.
Literacy: Measuring alphabet knowledge, reading and writing skills and comprehension, as well as phonological awareness.
Logic & Reasoning: Measuring sequencing, problem-solving, and symbolic and critical-thinking abilities.
Early Math: Measuring the ability to comprehend numbers, patterns, sorting, and ordering, while using numbers for addition, subtraction, measurement, and graphing.
Nature & Science: Measuring understanding of the natural and physical world, as well as observation, descriptive, prediction, and data-gathering abilities.
Social Studies: Measuring children's ability for self-awareness, as well as their ability to understand their families, their community, and their world.
Physical Development/Health: Measuring motor skills, both fine and gross, in addition to understanding health and nutrition.
Social-Emotional Development: Measuring self-awareness, plus the ability to show respect and empathy for others.