Creative Ways to Stay Connected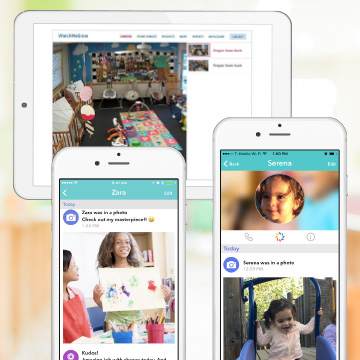 We're committed to our school community and that's why we want you to feel connected and engaged while your child is with us, so you don't miss any special moments or milestones.
Live Streaming Video
What is your child learning and spending time on in their classroom Stream footage of their classroom with any computer or smart device, from anywhere you are: Traveling, deployed, or just plain busy parents will love watching their child grow and learn with us.
Live streaming video
Encrypted and tightly controlled
Every account authorized individually
Intuitive and easy to use
Note: Live streaming video is visual only, no audio.
Family Communication App
With real-time updates, photos, and videos, the app for parents keeps you connected. Through the app, you'll discover:
Photos and videos
Milestone and learning updates from your child's teacher
Kudos: Teachers have the ability to quickly share out "wow" moments
Plus, we make it fast and simple to share all your favorite memories:
Scroll back through your feed to find previous memories
Include others: grant access to grandparents, friends, etc.
Share photos via text messages, emails, and social media
We know privacy matters, so your updates are always just visible to you and any of your chosen recipients. Secure communication is a top priority.
Don't forget: The enhanced digital experience of our SproutAbout™ app is coming soon!
Note: Technology offerings vary by school. Ask your school director for details.